Flourish® is the only hair growth line with the ingredients, scientific data, and real-world results to prove they can give you stronger, thicker––and most importantly, more––hair. Among their regimens, Flourish offers Shampoo for Thinning Hair, Conditioner for Thinning Hair, Minoxidil 5% Foam, and their proprietary drug-free spritz, Density Booster. The alcohol-free Flourish Volumizing Styler and scalp-stimulating Manta Brush round out the line. After 6 months of regimen use in an independent, third-party clinical study, Flourish users saw incredible results:
97% saw new growth
94% said Flourish was more effective than other solutions they've tried
91% saw less fall-out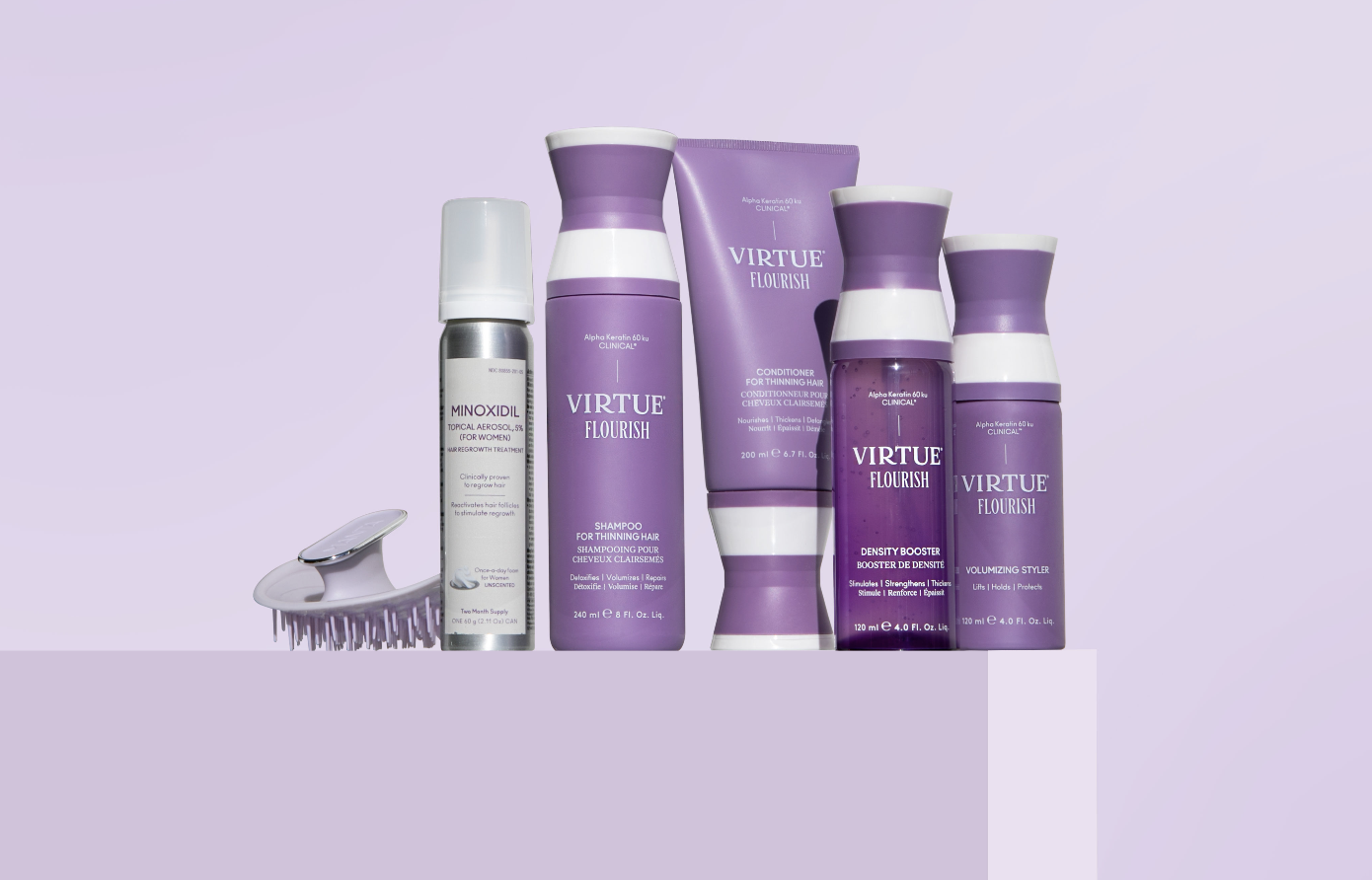 Flourish can help regrow hair after a variety of causes that lead to female hair loss, including androgenetic alopecia and COVID-related hair. It also thickens, strengthens, and repairs existing hair with their proprietary protein, Alpha Keratin 60ku CLINICAL®. This unique protein blend is made of Alpha Keratins, which are large, spring-shaped proteins that nourish the microbiome, repair damage, and reinforce the strength of your hair, and Gamma Keratins, which are small, globular proteins that provide hair with elasticity and flexibility, helping to reduce breakage and fall-out.
What makes Flourish hair growth products for women so successful is the combination of Alpha Keratin 60ku CLINICAL® with hair-growth supporting ingredients such as larch wood extract, probiotic ferment, and biomimetic signal peptides. No other hair growth line on the market can claim similar formulas or results.
Female hair loss is complicated. It's nuanced and emotional. Hormones, metabolism, stress, nutrition, and more are reasons why women lose their hair. It's time someone developed a more comprehensive approach. Try Virtue Flourish® today.