Q: What sets ESUM The Mascara apart from other mascaras?
A: The main point of difference is the high-performance formula.
This long-wearing, water-resistant and smudge-proof mascara stands up for whatever lash look is desired: daily wear, film, bridal or special events.
The deep black pigments produce a rich-hued formula for lash coverage that is beyond compare. Eyes "pop" as ESUM Cosmetics designed this singular Black Onyx mascara with black pigments infused with a cool tone to enhance the whites of eyes and all eye colors.
It unites nourishing organic Jojoba oil, Candelilla wax and flexible polymers within a unique cream-based formula. Together, they deliver a lustrous sheen that produces a light reflective effect, giving lashes a lush, volumized look. The flexible polymers provide soft, buildable flake-free coverage that is unparalleled. The design of the mascara wand is another key distinction. Like all ESUM brushes, it is expertly designed with stiff nylon bristles in short to medium lengths on a semi-conical brush head. It ensures a firm grip from root to tip for smooth, even color deposit, superior dimension, separation, curl and length.
The Mascara is free of Formaldehydes, Parabens, Petrolatum, PEGs, Sulfates, Talc and Triethanolamine (TEA).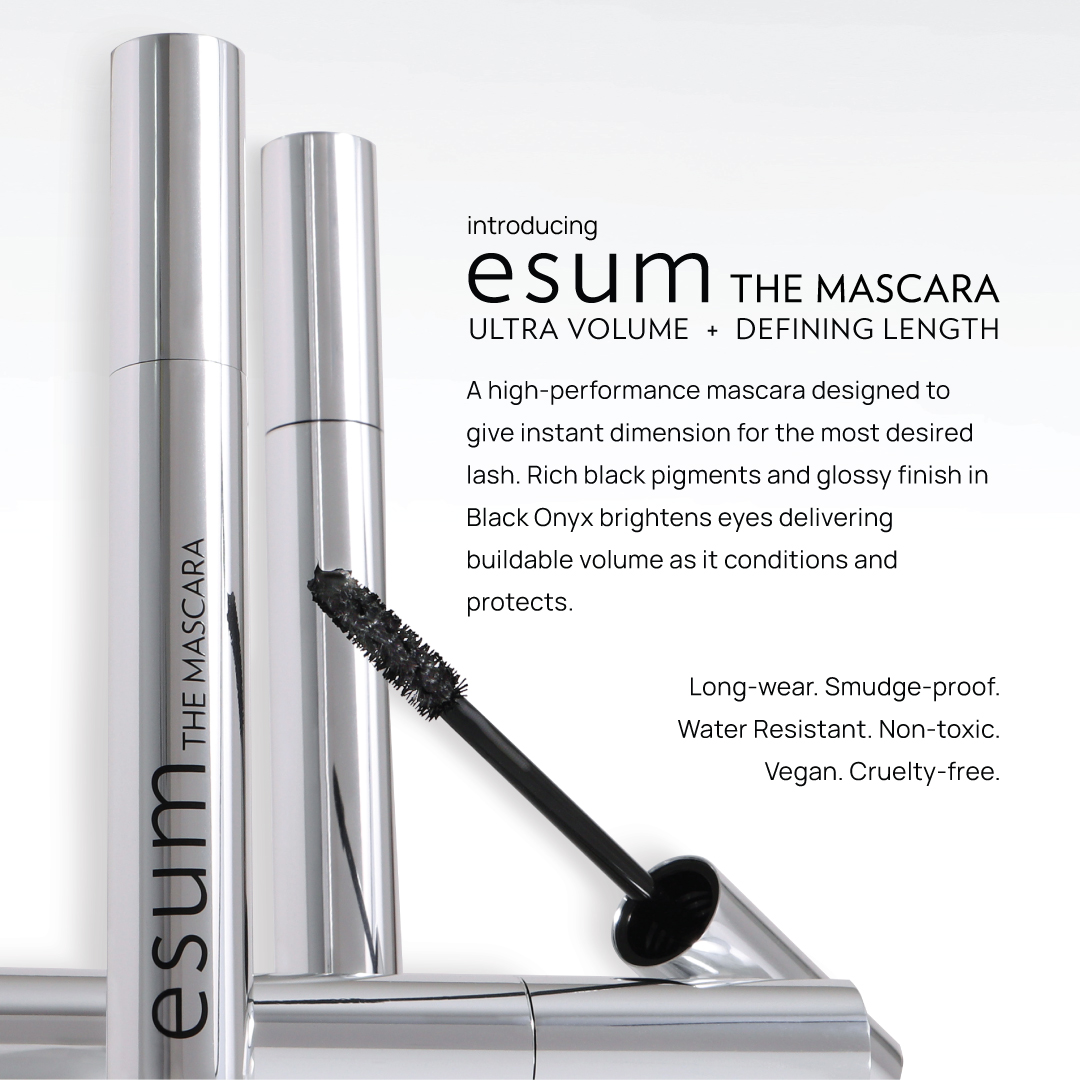 Q: Do you have any professional tips for application of The Mascara?
A: Yes! Make like a professional makeup artist and always sanitize your hands before touching your products and your face. Make sure your "canvas" and makeup brushes are clean before applying makeup to ensure cleanliness. If you are an MUA, ask your client to look down while lifting their chin and use the ESUM Pinky Puff to lift the eyelid. This is one of the latest makeup tools to help secure your hand and shield other makeup during application. Hint: You don't have to be a professional to take advantage of this tool to level up your makeup game!
Next, the T11 Fan Mascara Brush with smooth Taklon fibers and stiff nylon is an excellent way to separate and lengthen, creating finely detailed lash looks. Artists may prefer to use it instead of the included wand for mascara application. It is also ideal for those with sensitive eyes. Once dry, use the pointy side on the ESUM Pro Detailing Bud to erase any smudges. Make it a habit to practice brush cleansing immediately after every use.
Q: What techniques do you prefer to use when applying The Mascara?
A: To create beautiful lashes that are full, long and volumized, start at the eyelash base, wiggling the wand from the base of the root to the tip ends. We recommend starting at the outer corner of the eye, then working towards the inner corner. You can also increase lift in the center and fan your lashes at the corners with the T11 brush. Build as desired to increase volume and dimension for a glossy finish.
Vegan. Cruelty-free. Non-toxic.